How do you decide when is the best time to make a CPF nomination?
A recent conversation between a friend and me about what will happen to our families after we die finally spurred me to make my CPF nomination. I'm happy to report that the process took all of 30 minutes on a working Tuesday afternoon and wasn't the tedious exercise I imagined it might have been. Kudos really to the well-oiled agency that the CPF Board is.

The conversation began after we learnt that $211 million had been left sitting with the Insolvency and Public Trustee's Office (IPTO) to date and this sum is largely made up of CPF monies.

This is because the IPTO office comes into the picture to distribute the deceased person's CPF savings to his or her family members under the Intestate Succession Act or the Inheritance Certificate (for Muslims) when anyone dies without making a nomination, and that can be quite a hassle for your loved ones.
So if you are tight with your family, you will no doubt not want to trouble them too much.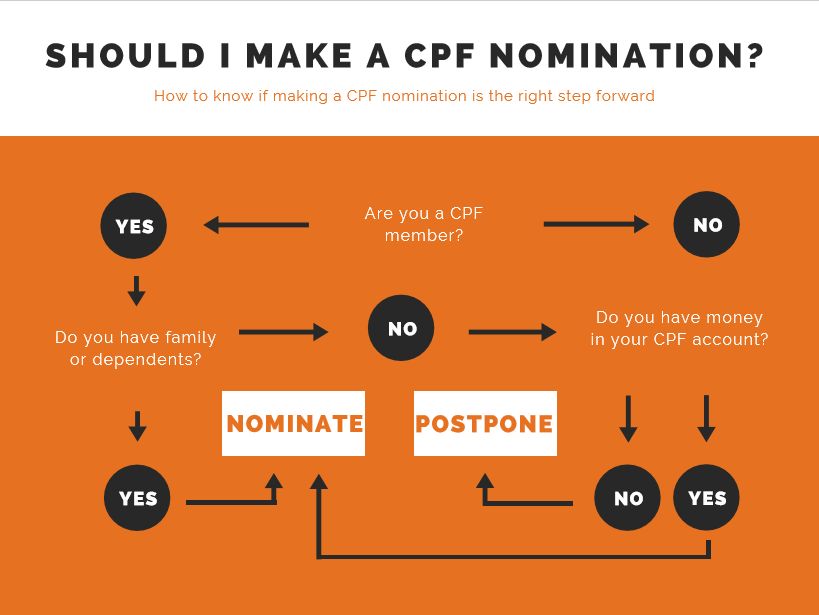 At this point in my life, choosing to make my CPF nomination made the most sense to me because doing it is free of charge. (It's not because there is a lot of money in there.) It doesn't cost me a cent to make one. Plus, knowing that if I can update my nomination without having to pay for that too is a draw for me.
In contrast, the alternative is for my family to approach the IPTO to disburse the monies to them after I'm gone. But that wasn't as palatable since there is this administration fee they charge for the service.

I've also provided a summary of what my trip to the CPF Board was like, if you think it might help you to decide whether you're ready to make one yourself.
Booked an appointment to make my CPF nomination through the CPF website for myself two weeks ago. I postponed it once because, in hindsight, I thought it was a great idea to get my husband along to make his nomination too.

Today, I went to the CPF office at the appointed time. Picked up my queue number and waited for my turn. This segment took me about 10 minutes in total. (Had to wait behind an uncle who looked a little lost at the queue number machine)

At the counter, the helpful chap answered all the questions I threw at him about CPF nomination. For example, I wanted to know what the Enhanced Nomination Scheme was about and whether it was suitable for my (or my nominee's) needs.

He helpfully offered that I can always choose an alternative mode of nomination again if I ever change my mind. Nothing to pay to make this change, of course.

Other issues that he brought up: CPF will not reveal my nominee to even my family members, and that I can choose to have the details of my CPF account revealed to my nominee after my death, or not at all.

I think this is useful if my nominee ever wants an account of how my CPF savings are handled.

After being told I would be updated by snail mail that I had made a CPF nomination, there was nothing else left to do, but to grab some lunch.

It took me about half an hour to complete the arrangements.

By the way, this is how IPTO will charge your estate to deal with your CPF money if you did not make a nomination:

The minimum fee payable to IPTO starts from $15. These fees are taken from the CPF money, includes GST, and cannot be waived.
PS. I realise how much this post sounds like a plug for the CPF Board, but rest assured this reflects only my personal opinion.