What tasks must be handled by family when a loved one dies?
BEWILDERMENT, shock, followed by grief. Whether the death was expected or it happened suddenly, families often find themselves caught up in a whirlwind of tasks and activities that must be attended to following a death in the family.
To help families organise a dignified funeral as they cope with loss, we compiled a list of the tasks that should be carried out when a close family member dies. You will find some resources to help you see your loved one on that final journey.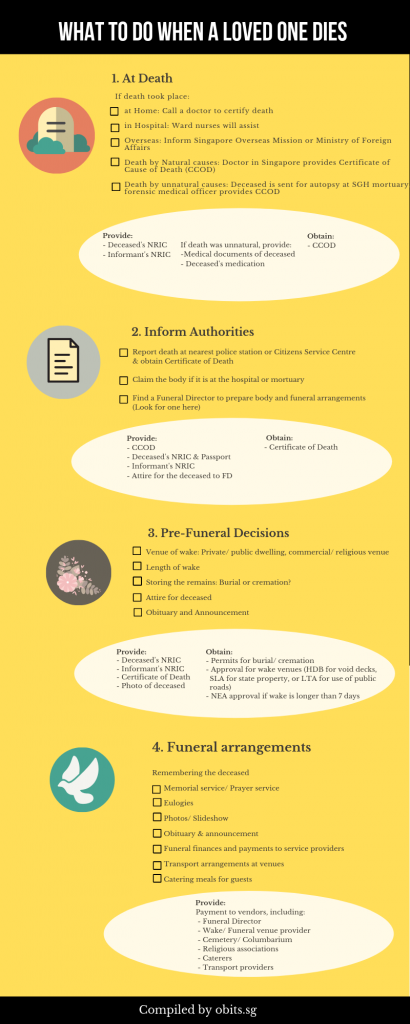 My loved one has just passed on. What do I do now?

If the death happened at home:
Call a doctor to certify the cause of death. You may want to have a trusted family doctor on standby if you know the death is impending, and arrange for a house visit.

Your doctor will issue the Certificate of Cause of Death (CCOD) on the spot if he is able to identify its cause.

You can also find a doctor here.

If the death occurred in a hospital:
The attending doctor will certify the death and issue the CCOD. You can obtain the CCOD from the ward nurses by producing the deceased's NRIC.
If the death was unnatural or an autopsy is required:
If the cause of death cannot be determined, the doctor will refer the deceased to the police.

If the death occurred in the hospital, the police will be involved if death was directly or indirectly caused by unnatural events, such as surgical complications or a fall before admission.

The body will be sent to [email protected] (located at Block 9 of Singapore General Hospital) in a police hearse. The next-of-kin needs to go to the mortuary to identify the deceased's body.

[email protected] operating hours:
Monday to Friday – 8:00am to 4:30pm
Sat, Sun and Public Holidays – 8:00am to 12:30pm
What to Bring to [email protected]:

All medical documents relating to the deceased
All medicine consumed by the deceased
Identification papers of the deceased
Informant's identification e.g. NRIC/Passport/Certificate of Registration of Birth/ FIN card
Clothes, including a top, a bottom, underwear and shoes for dressing the deceased
2. Which authorities do I inform of the death?
You can go to the nearest neighbourhood police post or the Citizens Services Centre at ICA building to register a death. This should be done within 24 hours.

Police stations in Singapore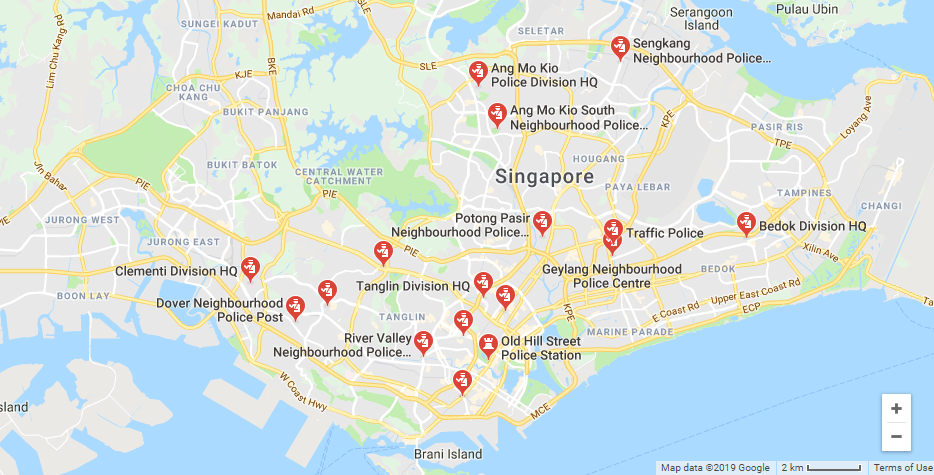 Citizens Services Centre, ICA Building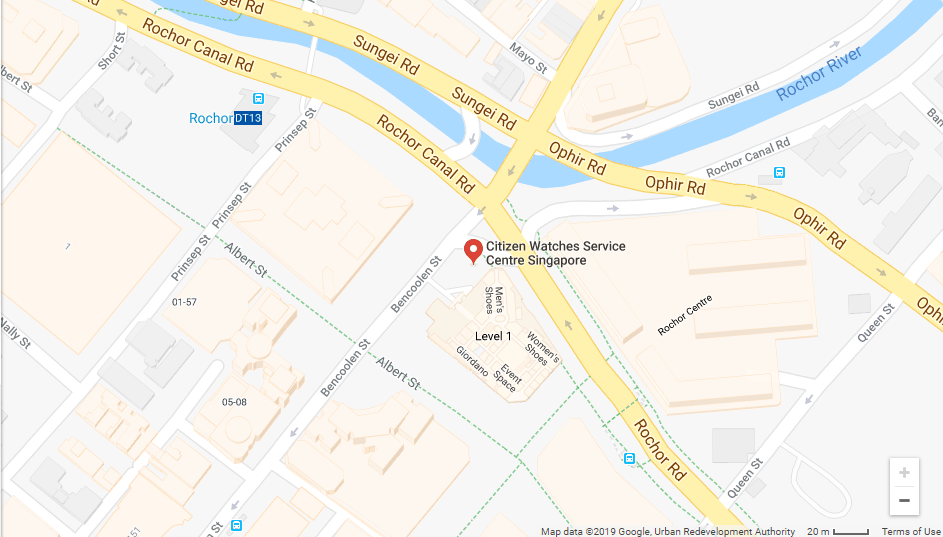 What documents do I need to provide?

Certificate of Cause of Death. This is issued by doctors or forensic death investigators from the Ministry of Health
Deceased's identification documents (e.g. NRIC or passport) for cancellation
Informant's identification documents (e.g. NRIC or passport)
What will happen after I inform authorities?

The CCOD and identification documents are verified by the registration officer.
The Death Certificate will be printed for the informant to sign and issued.
The deceased's identification documents will be cancelled.
Do I have to pay any fees?

How long is the processing time?

45 minutes at the police station
30 minutes at Citizens Services Centre, ICA building
3.1 Select a funeral director
After you claim the body, you will want to look for a funeral director. Your director will be your main liaison for most aspects of the funeral arrangements, from preparing the body, selecting a casket, choosing the wake venue and booking a burial plot or columbarium niche.

Not sure where to begin looking? Here is a list of funeral directors
Bear in mind the fee quoted by the funeral director does not include fees paid for other services, such as catering, refreshments and using external venues — if he does not represent the funeral parlour you wish to use, and other government-agency services.

Pointer: Most packages provided by funeral directors include the basics such as a casket, basic venue set-up and your director's service fees. You will have to top up for additional items such as a better quality casket, food catering for guests at the wake, cost of venue or if you decide to rent video or audio equipment.

3. What pre-funeral arrangements should I make?

Having a clear idea of the tasks ahead saves you travelling time, unwanted delays and smoothen communication with other family members.

3.1 Where should I hold the wake?
Wakes can be held at an HDB void deck, a landed house, funeral parlours, a clan association building or places of worship, such as churches or temples.
Most families will want to consider the following factors: budget, religious affiliation, amenities around the location (including lock-up facilities), and the time and distance needed for travel.

If you decide to hold the wake in an HDB void deck or in a landed house with the set-up extending onto the road outside the house, seek approval from the following authorities:
Your town council

For an HDB void deck. Find your town council and contact number here.

LTA

For a private house with extension onto a public road outside the house. If you do not intend to seek approval to set up the wake on the road, you do not need to contact LTA.
LTA customer service hotline: 1800 – CALL LTA (1800 – 2255 582). If you're overseas, call (65) 62255 582. Or send an online enquiry: https://www.lta.gov.sg/feedback/
3.2 How long should the funeral be?
A Chinese funeral in Singapore generally lasts between 3 and 7 days, while Muslim and Hindu funerals will take place within a day of death. Non-religious and Christian funerals can take place between a day and up to 5 days after the death.

Check here for estimated costs of a funeral package.

Pointer: If the funeral lasts longer than 7 days after death, you must write to the National Environment Agency for permission.

Send your request to:
National Environment Agency
Food & Environmental Hygiene Department
40 Scotts Road
Environment Building, #21-00
Singapore 228231

3.3 Should I opt for burial or cremation?
Due to limited land space, the burial period for all graves in Singapore is limited to 15 years. After this period, exhumed remains are either cremated or reburied in smaller individual plots if a religion requires remains to be buried.

The ashes of the deceased can be stored at home or in a columbarium. Niches are available at two government-managed columbaria and many other private columbaria.

Cremations in Singapore take place in three locations: Mandai Crematorium and Columbarium Complex, Kong Meng San Phor Kark See Monastery and Tse Toh Aum Temple.

After deciding whether you will go ahead with a burial or a cremation, your funeral director can assist you with the needed permits and paperwork.

Where can I store the ashes?
Booking niches in government-managed columbaria can be done online too.

Documents you need:
To book a government-run niche, bring the informant's NRIC and the original Death Certificate. If you are not a next-of-kin, provide a Letter of Authorisation when you make a booking.
A sea burial is to have the deceased's ashes scattered at sea. The Maritime Port Authority (MPA) has designated a site located 2.8 km south of Pulau Semakau where sea burial can be conducted. Sea burials are done daily from 7 am to 7 pm.

MPA's Port Marine Safety Control Centre contact number: 6325 2488.

More details, including fees and pricing, venue availability, rules and regulations, payment modes and documents you have to produce for a burial or a cremation licence are found at the NEA website.
3.4.a. Attire for the deceased
Do use clothes that fit the deceased. But if they don't, you can still pass them to the funeral director. Just be sure to provide a back-up to allow him to work without delay. Do speak up if you have any preferred style options.

Your loved one may have expressed some last wishes about the clothes they would like to be dressed in. Bring them along to the hospital or the mortuary when you are there to identify the body. If the death occurred at home, prepare the clothing for the undertaker when he comes by to receive the body.

Pointer: Provide a complete clothing set including innerwear and a pair of covered shoes, or accessories the deceased may have liked to wear. These items will make your loved one look presentable.


3.4.b. Inform friends and family
The deceased may have a lot of friends before he died, or you may have a large extended family to inform. You may consider buying an obituary that comes with a digital version to facilitate ease of getting the information out to your networks as quickly as possible.
Pointer: Buying a print obituary that includes a mobile-friendly digital version can be done at Life Matters

3.4.c. Funeral finances

Your funeral director will usually provide you with a donation box to store funds collected from visitors. The amounts each visitor gives will vary, and you may end up handling cash in large amounts. If you are uncomfortable with handling a lot of cash, you can choose to have the donations transferred to you with an optional service provided by SPH using the PayNow platform with the digital obituary you purchase.
Appendix A: What if my loved one died overseas?
What if my loved one dies overseas?

Inform MFA or the nearest Singapore Mission if you are not in Singapore.
Register the death with the relevant foreign authorities where the death occurred.
Decide if you would like the body to be repatriated or buried at the place of death.
I would like the body to be repatriated back to Singapore. What do I do next?

Apply for a coffin (import) permit.
Engage a funeral director to help you with the procedures.
You will need these documents:
1. The death certificate issued in the country of death (non-English documents must be accompanied by an English translation);
2. A cause of death certificate or a statutory declaration;
3. A sealing certificate for the coffin;
4. An embalming certificate (if applicable);
5. A coffin export permit from the country exporting the body; and
6. An air waybill or air consignment note (if importing by air).
The coffin (import) permit is issued by the Port and Airport Health Offices

Port Health Office
+65-6222-2585 (24 hours)
Airport Health Office
+65-6543-2515 (24 hours)
If the application is submitted by the funeral director, the Permit to Cremate/Bury will be granted only if the next-of-kin gives a letter of authorisation for the funeral director to apply for the permit.
* Check here for estimated costs and resources.
Death Registration for Overseas Death
If the next-of-kin is unable to report the death personally at the ICA building, a letter of authorisation will be required.
A death that occurred overseas must also be reported to Singapore's Registry of Births and Deaths, Citizen Centre, 3rd Storey, ICA Building, personally by the next-of-kin.
Documents required:

Death Certificate issued by the foreign authorities (an English translation is required if the death certificate is in ethnic languages)
Coffin (Import/Export) permit
The deceased's Singapore NRIC, passport, Citizenship Certificate (if any)
4. At the funeral
4.1 Remembering the deceased
A funeral is a time to remember the deceased. Families are increasingly sharing eulogies that recall memories of their loved one or share anecdotes and favourite stories. Sharing photos and videos of the deceased also help the family to connect with visitors and reaffirm family ties.
4.2 Funeral finances & accepting condolence money
There will be many items to pay for during a funeral. Be sure that everyone in the family agrees about who will be handling finances for the deceased during this period. It could be the responsibility of one person or many.

Offering pek kim to a bereaved family is a common practice to help them tide through this difficult period.

Today, families can also choose to accept pek kim through PayNow, when they select to use the digital obituary service from SPH. Find out more here.

However, some families may also request for friends to donate funds to a charity that the deceased supported while he was alive
Pointer: PayNow is a fund transfer service offered by the Association of Banks in Singapore. Anyone can use PayNow if they have a mobile banking app with any of the nine participating banks in Singapore, including DBS PayLah! and OCBC PayAnyone
4.3 Visitor attendance
Being prepared ahead will help families carry out the wake as smoothly as possible. Anticipating how many visitors you may receive at the wake will allow you to decide whether a bigger or smaller venue is suitable and if your budget permits.
If most of your visitors will need public transport, select a location that is well-connected by MRT and buses.
4.4 Catering for visitors
Costs in a funeral can add up. Most funeral directors offer refreshments in the form of drinks and snacks as part of the funeral and wake package, but they are usually not costed into the package you have bought.
You may also choose to cater meals such as lunch or dinner over the duration of the wake as a reciprocal gesture to friends and visitors who attend.